Special Event in Oxford: a date for the Diary! May 5th 2018.
To celebrate the FCBG's Golden Anniversary and OCBG's Silver Anniversary, we are holding a special Gold and Silver Birthday Party for OxFedTed, at the Story Museum in Oxford, from 2-4.30pm, on May 5th. If you have not yet visited this extraordinary Museum, come along and join in with the party atmosphere! Enjoy golden and silvery stories, crafts and activities.
We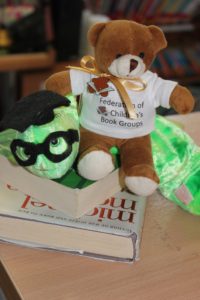 are thrilled that we will have several talks and readings from special guests, Neil Griffiths, the original creator of Story Sacks, and Children's Poet, John Foster, and many other local authors and artists….
Everyone welcome!
Standard Museum entry applies. However, the event is free for individual OCBG members (1 adult and 2 children); OCBG schools (2 adults and 4 children per school) and, of course, for our special guests- invitations to follow).
For further information, please contact: Jackie Holderness : 01865- 862640.
==============================================================================
ALL YEAR LONG 2018:  FCBG GOLDEN ANNIVERSARY CELEBRATIONS.
The FCBG will celebrate 50 years since it was founded by Anne Wood in 1965, to promote enthusiasm for and about children's books. All local Book Groups are being encouraged think of exciting and golden ways we can work together to celebrate this important milestone in golden style. Please make contact if you have any ideas or you would like your local school or community to become involved.
===========================================================================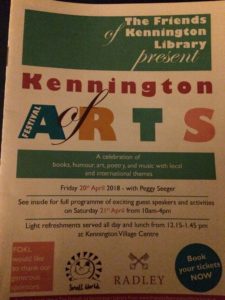 20 -21 April 2018: OCBG have been invited to Kennington Festival of Arts being held on Friday evening 20th April and Saturday 21st April. Story tellers, musicians and artists will be performing. On the Saturday morning, Korky Paul will be doing a Winnie the Witch presentation and there will be arts and crafts activities for the children.  OCBG will be there with an activity stall and we look forward to seeing our members there.
===============================================================================
   2018 Federation Children's Book Award
Voting has now opened for the 2018 shortlist. Click here to see the shortlist and how to vote.  Visit the Federation website for further details at www.fcbg.org.uk/childrens-book-award.
The Children's Book Award is the only national award voted for solely by children from start to finish. It is highly regarded by parents, teachers, librarians, publishers and children's authors and illustrators as it truly represents the children's choice. Thanks to the support of the publishers, over 1,000 new books are donated to be read and reviewed by our Testing Groups across the country every year, with over 150,000 total votes being cast in the process. At the end of each testing year, nearly 12,000 books are donated to hospitals, women's refuges, nurseries and disadvantaged schools by our groups.
__________________________________________________
Watch this space for more details of events happening in Oxfordshire in 2017
Book Swaps:
We hold regular Book Swaps for our school members  If your school would like us to help you hold a Book Swap, to get the whole school reading, please let us know!"
School Visits
Author events at Helmdon Primary School, Newbottle and Charlton School
Author/illustrator visits to member schools throughout the year, please contact us for details.